Fast Software Encryption 2007
March 26-28
Luxembourg City, Luxembourg

Venue
The conference was held at Neumünster Abbey in the centre of Luxembourg City. Here you can find information on how to get to Luxembourg and to the abbey.
Getting to Luxembourg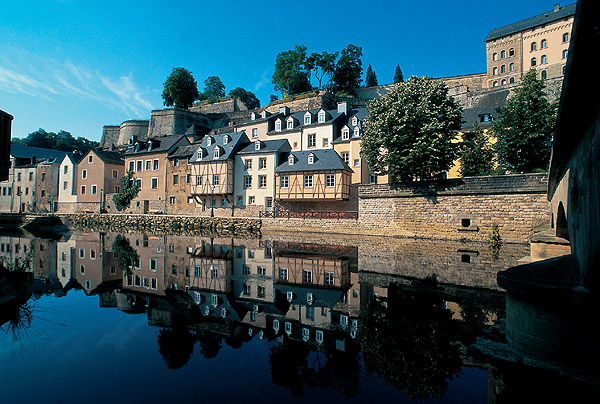 By plane
Luxembourg City is served by the international airport Findel (see also the site of Luxair). You can reach Luxembourg also from several other European airports by train or by car however that could take you several hours. The closest major airports are Brussels (233km), Cologne (200km), Frankfurt (249km), Paris (379km) (see driving distances to other cities).
Upon arrival, you may take a taxi (approx. €30 to the city centre) or a bus (numbers 9 and 16 stop near terminals).
By train
It is easy to get to Luxembourg by train from such cities as Brussels, Paris, or Cologne. You may find an appropriate route on the following sites of Belgian, French, or German railways respectively.
By car
Highways from Metz (A3), Brussels (A6) and Trier (A1) connect to the ring-road around Luxembourg City.
Luxembourg in Google Maps.
Getting to Neumünster Abbey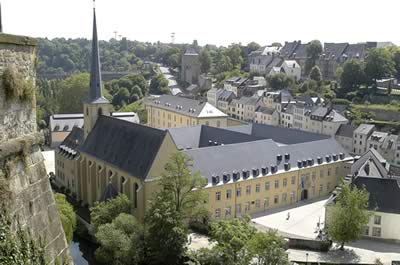 By bus
Bus number 23 (Grund shuttle) stops approx. 300m from the abbey (close to the bridge Stadgronn-Breck). This bus links the train station (Gare) to the valley of the "Grund" (see also a map). It also stops at the Hamilius in the evening.
After leaving the bus at Stadgronn-Breck cross a small bridge ahead and turn left into Münster street.
Almost all buses stop at the central bus station Hamilius (centre of town) and the Central Station (Luxembourg Gare) in their routes at some point.
Bus tickets are available from the driver. They cost €1.50 for an hour or €5.00 for a day.
You can find a schedule and a map of routes at any bus stop or download from here
By car
Use the underground parking "Saint Esprit", then the elevator to the "Grund" floor, leave the tunnel and cross the small bridge ahead, then turn left to the Münster street and proceed to the entrance to the abbey at the end of street.
The price is about €1,20 per parking hour! Some other parkings may be found on the map here.
By phone
If you are lost please call the abbey desk: (+352) 26 20 52 1.
Getting to FSE: maps
Although there is a bus stop near the FSE venue (6 - Rumm) it may be easier to get there on foot. Here are presented some pedestrian routes linking the FSE venue to bus stops.
A map of the city center with the railway station as well as bus and pedestrian routes to FSE
Bus and pedestrian routes to FSE: small/print version